The big day

Stylist: Alexis Teasdale
Photographer: Alana Landsberry
Location: Adelaide
#dustinandlexthewedding
Weddings are so special.
All your favourite people in one place, surrounding you and your partner with love.
It's the best feeling.
Big or small, they do take a bit of planning. Our day couldn't have happened without the amazing vendors below. They rock.
xxx
The dress
I found my beautiful Reem Acra gown from Anna Dafonte bridal boutique in Sydney.
It's light, floaty, sparkly and was perfect for our ridiculously hot wedding day. My very clever bestie found a sheer chiffon Reem Acra skirt in the boutique that matched a different gown. We popped it over the top of mine, and bam, it added volume but was light as a feather! I wore the skirt for the church and photos, then whipped it off before the reception. Hello, dancing!
I can't rave enough about Anna and her team. They made me feel so special.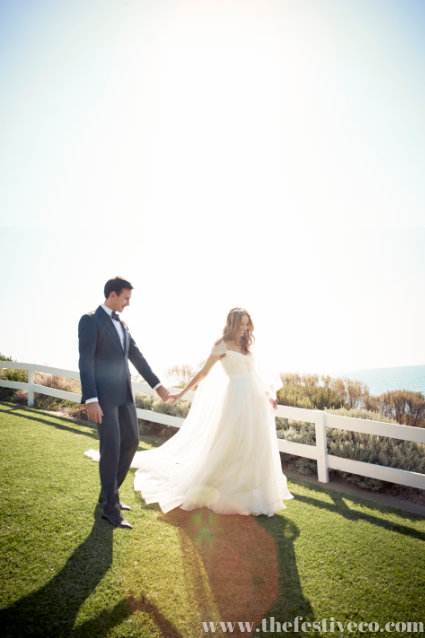 Photography
Alana Landsberry is the best. Not just an incredibly talented photographer (she has captured everyone from Tony Abbott to Miranda Kerr to Zac Efron) she is one of the most beautiful humans you'll ever meet, inside and out. I was honoured to have her as our wedding photographer. As you will soon see there was a lot going on at our wedding and she captured every detail, every moment and it would not have been the same without her there.
To see some other weddings she has photographed, check out Justine Cullen's insanely amazing day, and the Zoe Foster Blake's awesome shindig.
The boys
They wore navy blue suits with the groomsmen in skinny ties from Topman and my husband in a gorgeous navy bowtie from Le Noued Papillon.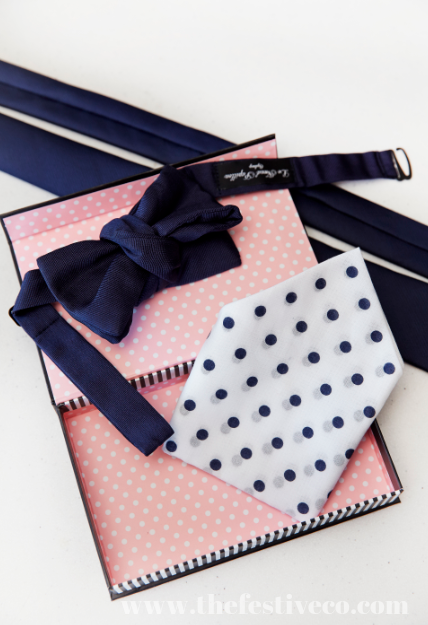 The girls
My stunning bridesmaids all designed their own dresses and we had a wonderful dressmaker Lian Khoe (08 8276 3251) in Adelaide make them out of white chiffon. Considering it ended up being 36 degrees I'm so glad we went with white. There was sprinkles of gold glitter throughout the day so they each chose sparkly heels to go with their dresses.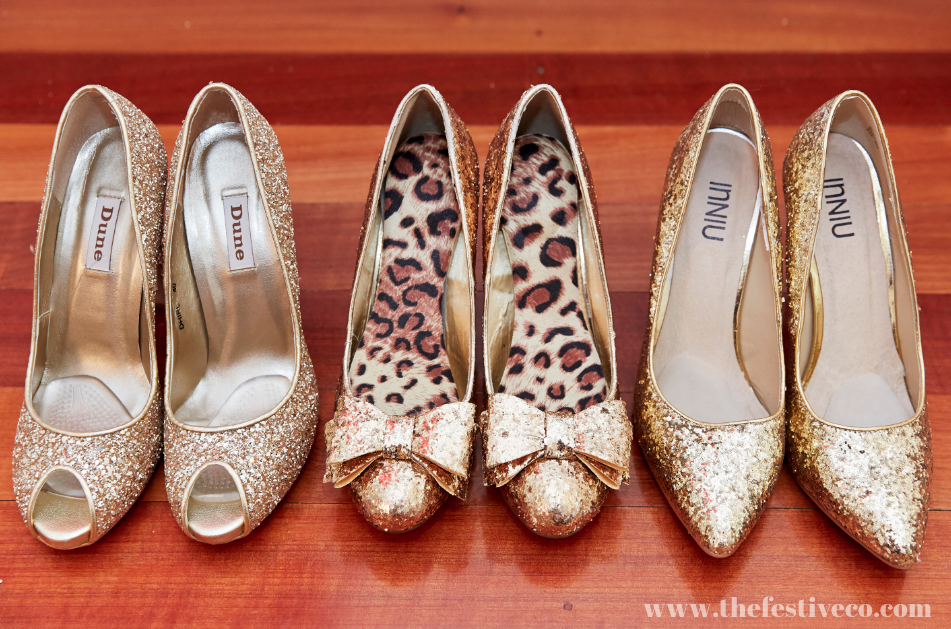 Hair and makeup
One of my besties (and bridesmaids) Nat met makeup artist Nicole eons ago at a beauty salon. When Nat got engaged she asked Nicole to do her wedding makeup. She then did wedding day makeup for my sister-in-law, her sister, a handful of my friends plus a handful of their friends and that's just the people I know! By the time I got engaged she'd already done my makeup as a bridesmaid twice. Brides keep passing on her details because she is such a gem.
Cherie at Chi Hair Salon was a star. Having been a beauty editor for a heck of a long time, I know my hair and I hate wearing it up. She totally got that I just wanted my hair to look like the more polished version of my regular style. Plus she managed to heat-proof it too.
The photo wall
My dad is the ultimate craft master. I mentioned this idea to him in passing and the next day, here was a photo wall hand made by him! There were Polaroid cameras so people could become a part of our 'family' and take photos in the frames during cocktail hour.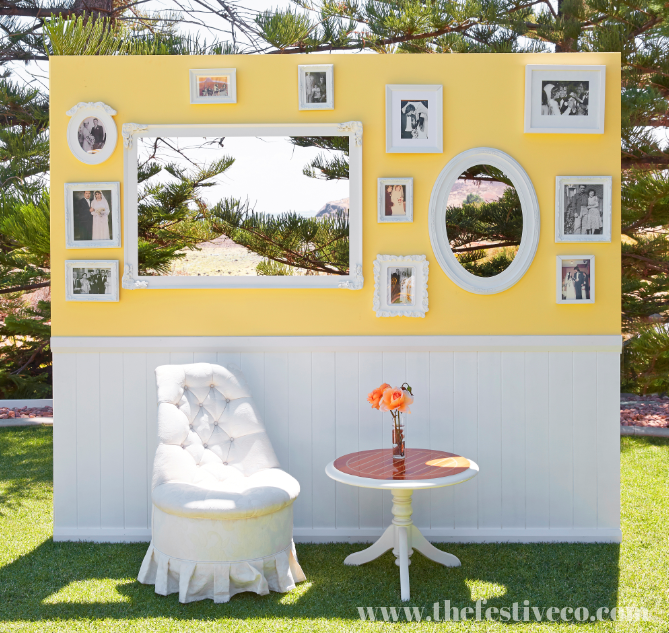 DIY
There was an insane amount of craft going on at this wedding, but here are just a few little things. I made badges and had them on a big pin board and easel for guests to choose from.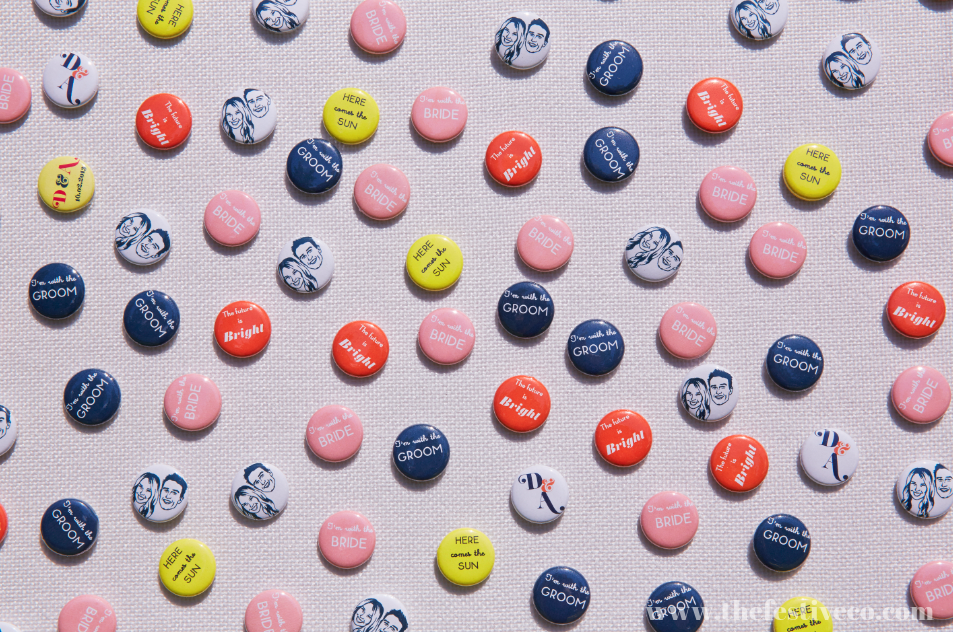 Paper mache numbers from Lincraft, coated in (several layers) of chunky gold glitter made our table numbers.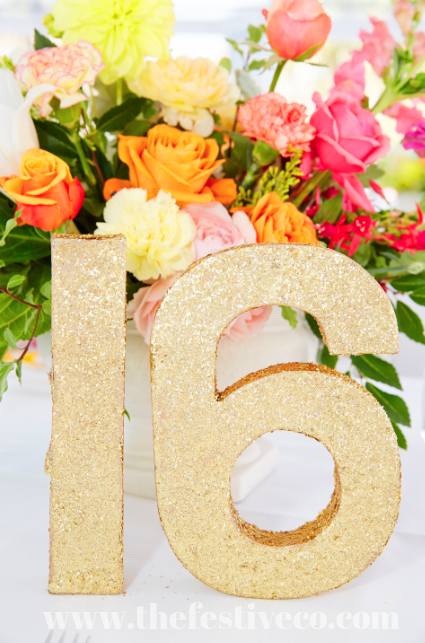 For some reason I just love coffee in a take away cup. I printed these onto sticky paper, then used a giant hold punch to make the circles.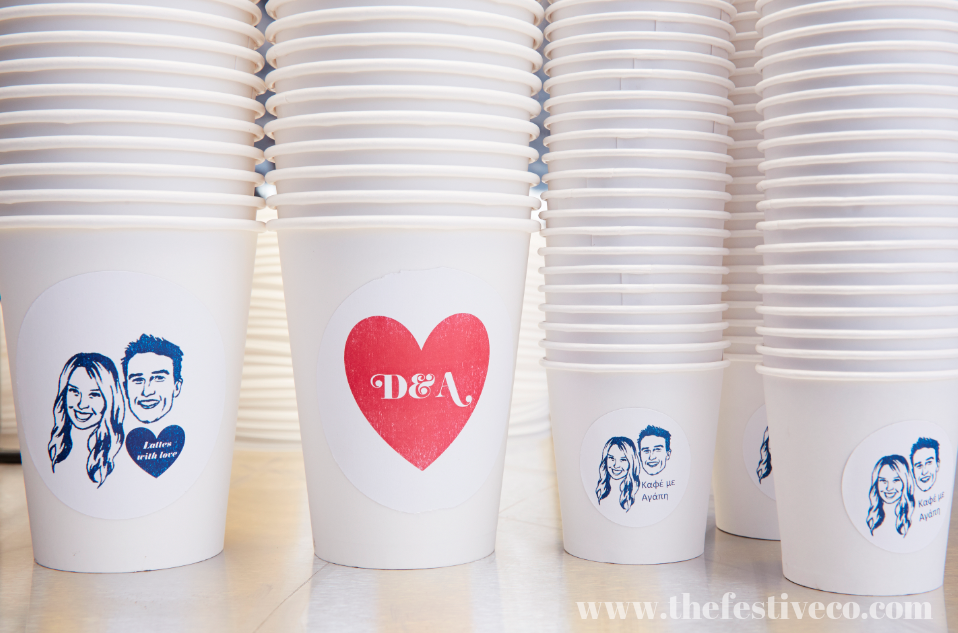 Fun things
Parasols, hats, sunnies and fans were scattered around for guests to use and keep. The fans had a plan of the night on the back so guests knew what was happening next.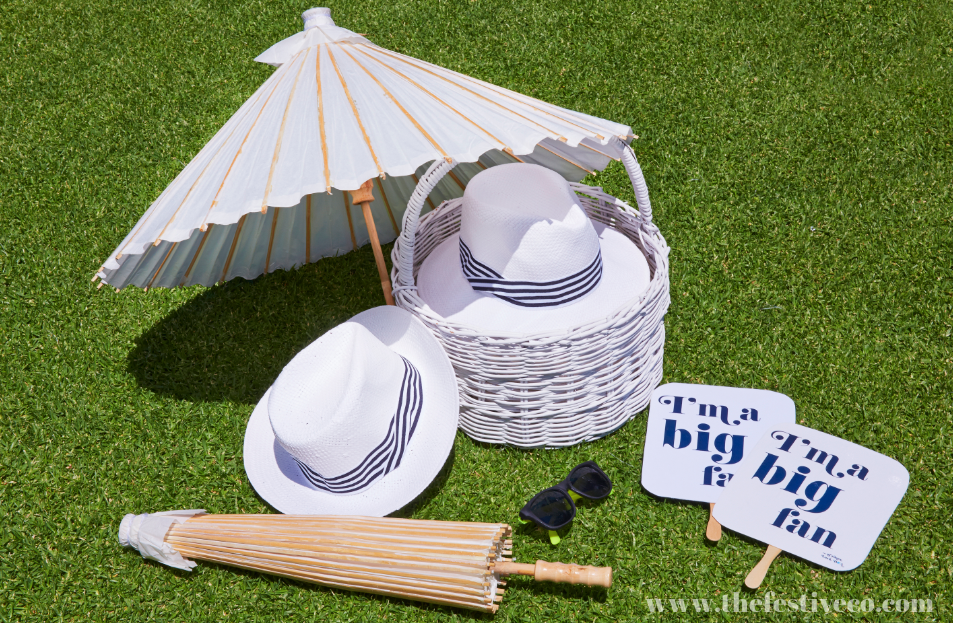 I'm all about having things to do at weddings, so why not a giant chess board?!
A caricaturist was busy sketching guests too.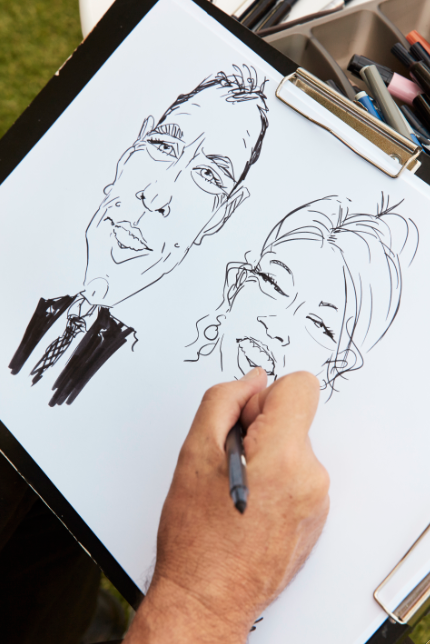 Keeping feet comfy for dancing is a must.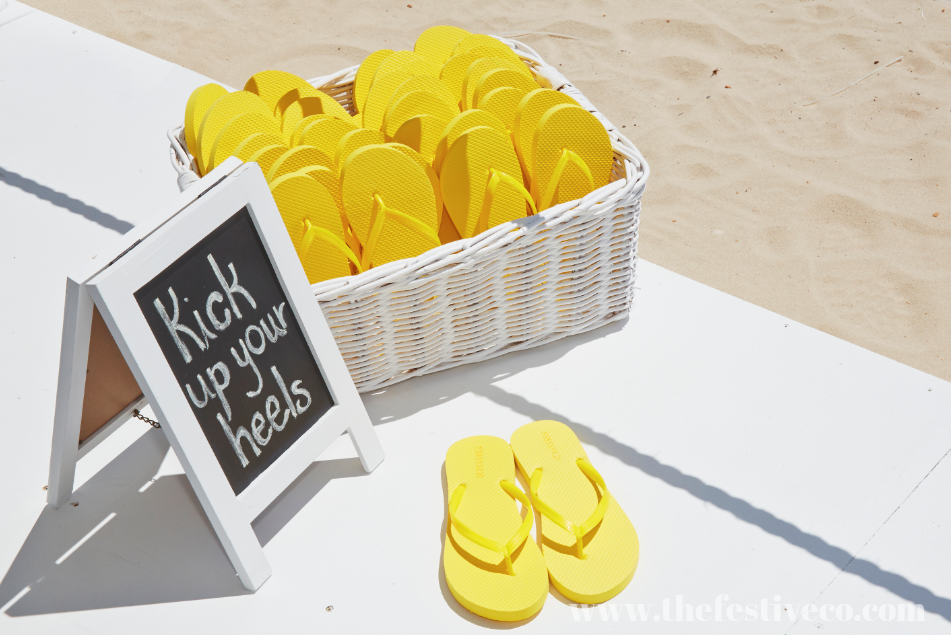 I made up some flavoured ice blocks to go in two signature cocktails which kept them blissfully cool. You can barely see them below because they were melting so fast. P.s rookie is one of my favourite words.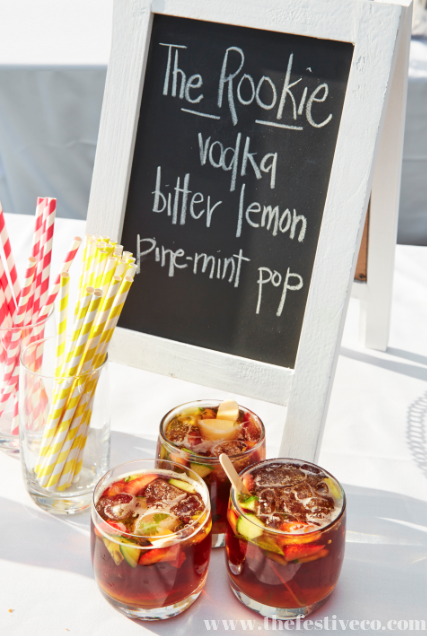 The menus and favours
Amazing Mads Wright (madeleinewrightdesign@gmail.com) designed our invitations, menus and favours and did such an incredible job!
The super talented Lilimandrill from etsy created our custom couple sketch which we used throughout the day. She then whipped up one of each of our bridal party too which was used in the menu with little stories about how we knew each of them.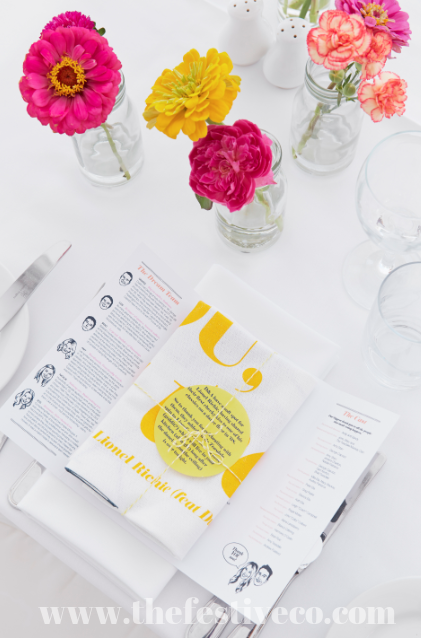 Folded into the middle of the menu was one of four different tea towel designs, each with a Lionel Richie themed slogan. DT and I are big fans of Lionel, so we gave the slogans a 'Teasdale' spin like the below and 'Say you, say tea', 'Teasy like Sunday morning' etc. Haha. Mads designed them for me and I had them printed on linen by Tea Towel Keepsakes.
*Side note, we actually met Lionel and showed him the tea towels and he loved them. True story!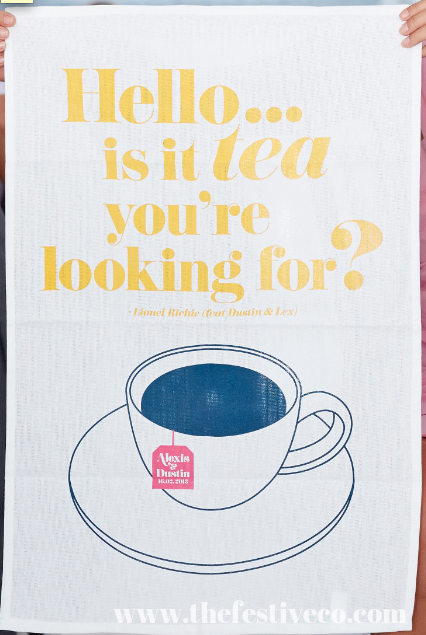 The foam letters
In magazines, it's tradition to have the mag's masthead in big foam letters in the office. So I thought, why not make our wedding slogan 'Eat, drink, dance, love' into giant letters? They sat across the side of the marquee and were illuminated at night.
I then did smaller ones for the bar, cocktail and dinner area and even the bathrooms. It was an inexpensive way to fill up the space.
The guest book wall
I was inspired by my fave Kate Spade, who had a wall installation of mini envelopes in one of her stores.
I hand made the envelopes and added little gold glitter cards for messages. Guests wrote us notes and sealed them. We opened them a week later on our mini 'moon and they were hilarious.
The photo booth
Ahhh photo booths. How I adore them. A simple streamer backdrop in the wedding colours and a huge bucket of confetti to throw around was all we needed. The 'booth' was actually a tiny little room with a door which meant that guests weren't embarrassed to take the photos because no one was watching them. This is key to a successful (and funny) booth in my opinion. Because of that door ours got pretty epically crazy. Looking at the photos makes my heart sing.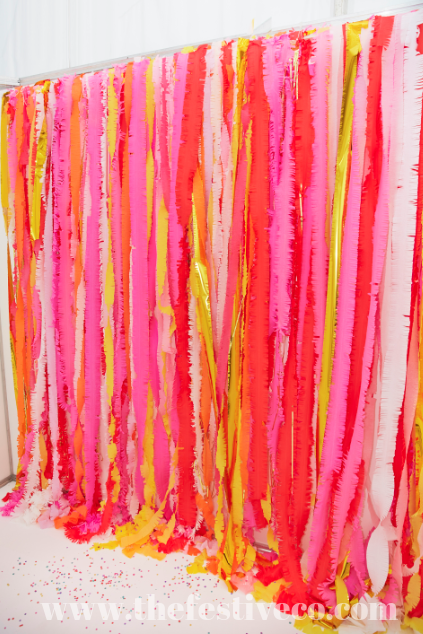 The flowers
Our gorgeous flowers were by Morgan at The Bluebell Society who smashed it with a gorgeous arch in the cocktail area, a swing over the bridal table and lots of bright, fresh blooms.
The ceremony
We had a traditional Greek Orthodox ceremony in Adelaide. My favourite part is the crossing of the crowns which I bought online from Cyprus where my dad was born.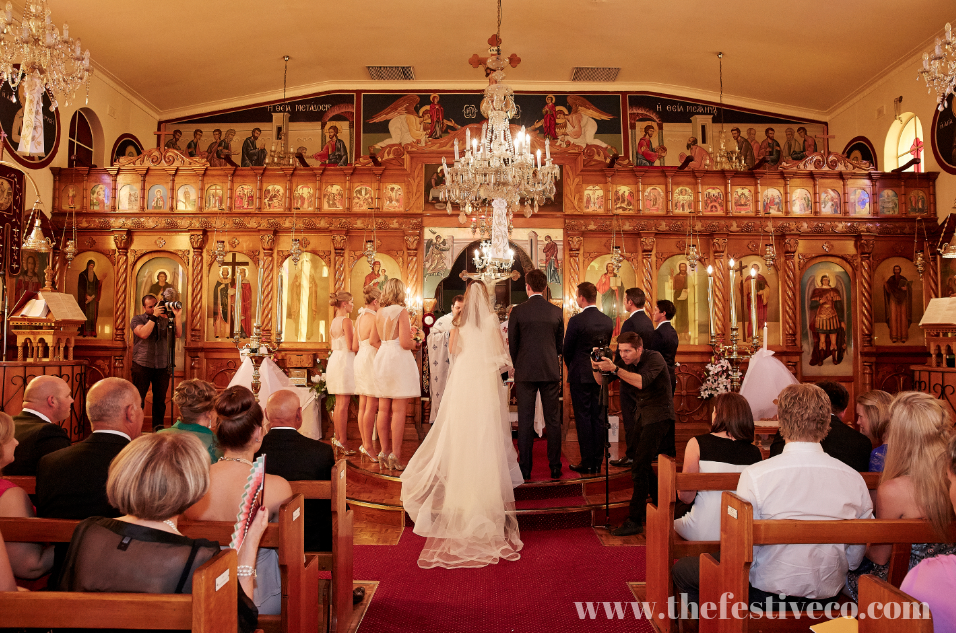 The reception venue
The reception was in a marquee on my mum and dads property. I bought the tables and chairs for the cocktail hour at Masters, and found the yellow and white striped umbrellas online.
The custom carts
Another example of my crafty dad. I mentioned to him that it could be cool to hire an ice cream cart. So off he goes and designs custom carts which my uncle then had made (I know, my family is mad crafty!) We ended up with Coffee & Biscuits, Beer & Pretzels and Ouzo & Olives carts. Needless to say the Ouzo cart caused some sore heads the next day.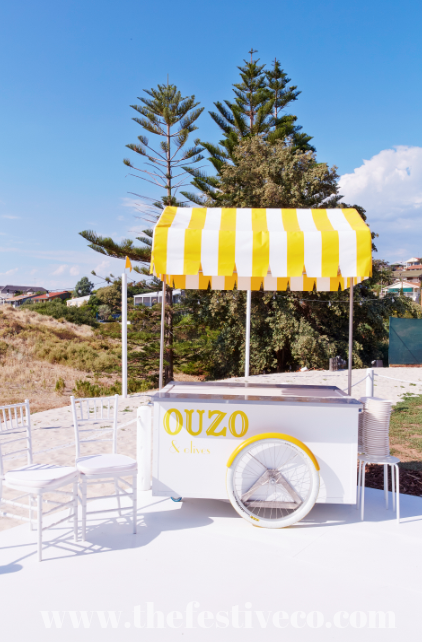 The catering
When you have a marquee wedding you need amaaazing catering. And that's exactly what we had thanks to Blanco Catering. SO professional, SO lovely, SO damn good at what they do, Lucia and her team were in complete control and the food was out of this world.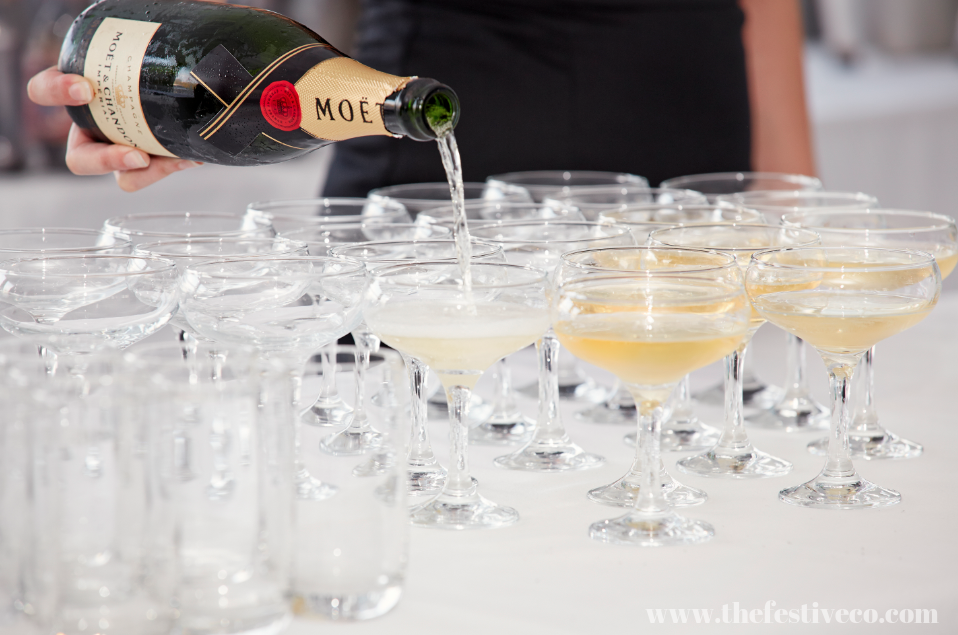 Yep, a giant block of Belgium chocolate with a chisel and hammer. Awesome!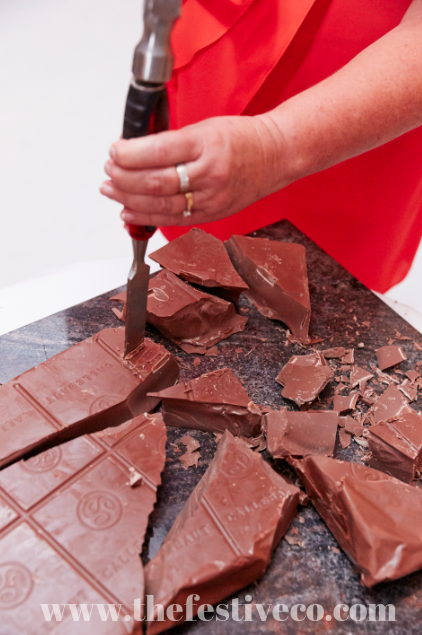 The cake  
Pinterest (aka a brides best friend) inspired, the cake was confetti on the outside and ombre pink on the inside. The wonderful Ruby's Cakes created this deliciousness and was so accommodating, nothing was too hard.
I'm all about lighting, but had no idea it was such a fine art! All I wanted was a squillion fairy lights. No draping or material. Just lights. Susan at Lush lighting got me straight away. They had to buy about a million extra strands to make sure there was a squillion for us to hire, then she created a wonderland on the roof of our gigantic Big Fat Greek Marquee and made it look easy (it wasn't.) Her team also added my favourite Ikea flower balls (I have them at home) over the dance floor and festoon lights all around the outside area.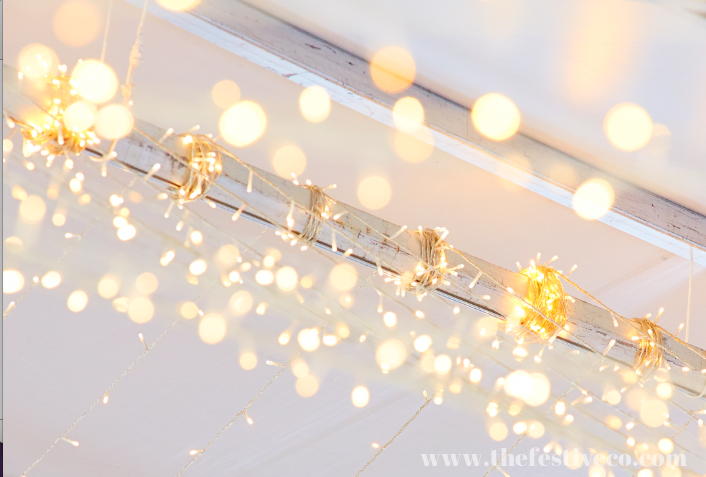 The band
Music can make or break a party. I found Brian from The Shizzle via my cousins wedding. I've never danced so much! He was the first person I called after I locked in the church, and they were AMAZING. Brian said we could add percussion and a sax player to the band if we wanted and I thought 'the more the merrier' (in that way you do as the day starts to get closer). Best. idea. The sax took it over the top, and every time they started playing guests were up and dancing. If you need a band in Adelaide, call Brian.
Plate smashing
In the lead up to the wedding everyone asked if there would be plate smashing. I kept saying no to keep expectations low but in fact, it was all planned. As IF I would miss that.
If you're thinking of doing it at your party here are some tips.
*You need a pretty big space space.The bigger the better. I used an area off to the side of our dance floor, so we could get everyone dancing after and out of the way of clean up.
*Have designated sweepers on stand-by so it doesn't take forever to clean up the mess. You don't want an awkward pause in dancing and fun.
*You must use chalk plates (NOT real ones!)
I spent ages Googling whether it would be dangerous even though I had smashed plates a hundred times before and all answers were no. However, my very enthusiastic guests managed to get those pieces flying hiiigh, so for the record it's not entirely tame. Probably didn't help that the Ouzo bar had already opened. Ha!
If you have little kids at your wedding (I didn't) keep them well out of the way and make sure you have someone overseeing the fun, just to be on the safe side (I'm a worry-wart, can you tell?)
The videographers
Oh my word, the team at Cinecraft are so nice. Truth be told I wasn't planning on having a video. Rookie. Error. My mum insisted that I get one, and I'm so very, very glad she did.  Lukasz captured so many moments like our parents faces during the day and night, and our nieces twirling in their 'wedding dresses' that we just never would have seen otherwise. My brief was candid, candid, candid. Kam who edited our video nailed it. Now I always tell brides, if you can afford it, get a wedding video.
You can see our mini edit video here.
As seen in Cosmopolitan Bride and Harpers Bazaar Australia