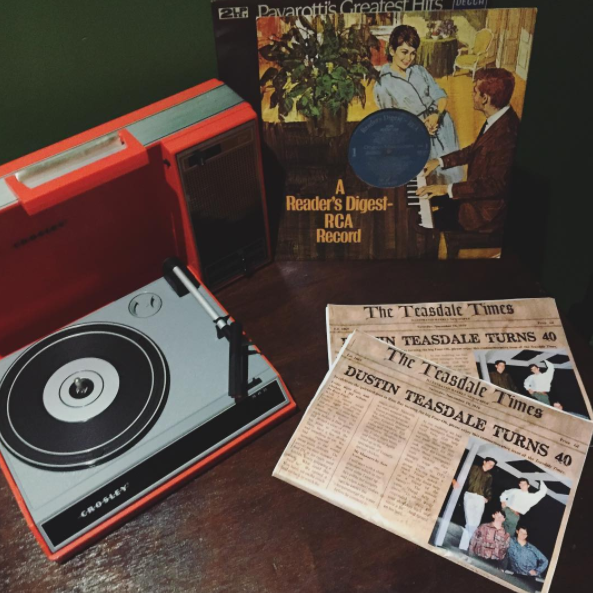 Stylist: Alexis Teasdale
I'd been planning my husband's fortieth in my head for ages (because: party!) and it's no Teasdale bash without a theme. 'Vintage' was easy for guests  – they could come as anything ye olde – and easy for me to decorate!
Easy was key as our second baby was due the day after Dustin's birthday. There was no way I was going to scale back the party, so we pulled it forward a month and I spent my third trimester scouring vintage stores and every Salvo's and Vinnie's I could find.
Our garage starting filling up with fabulous bits and pieces. Old books and board games. Like an original 'Pin the tail on the donkey'. Retro Arnott's tins, lamps, chairs, vases and tea cups precariously piled up.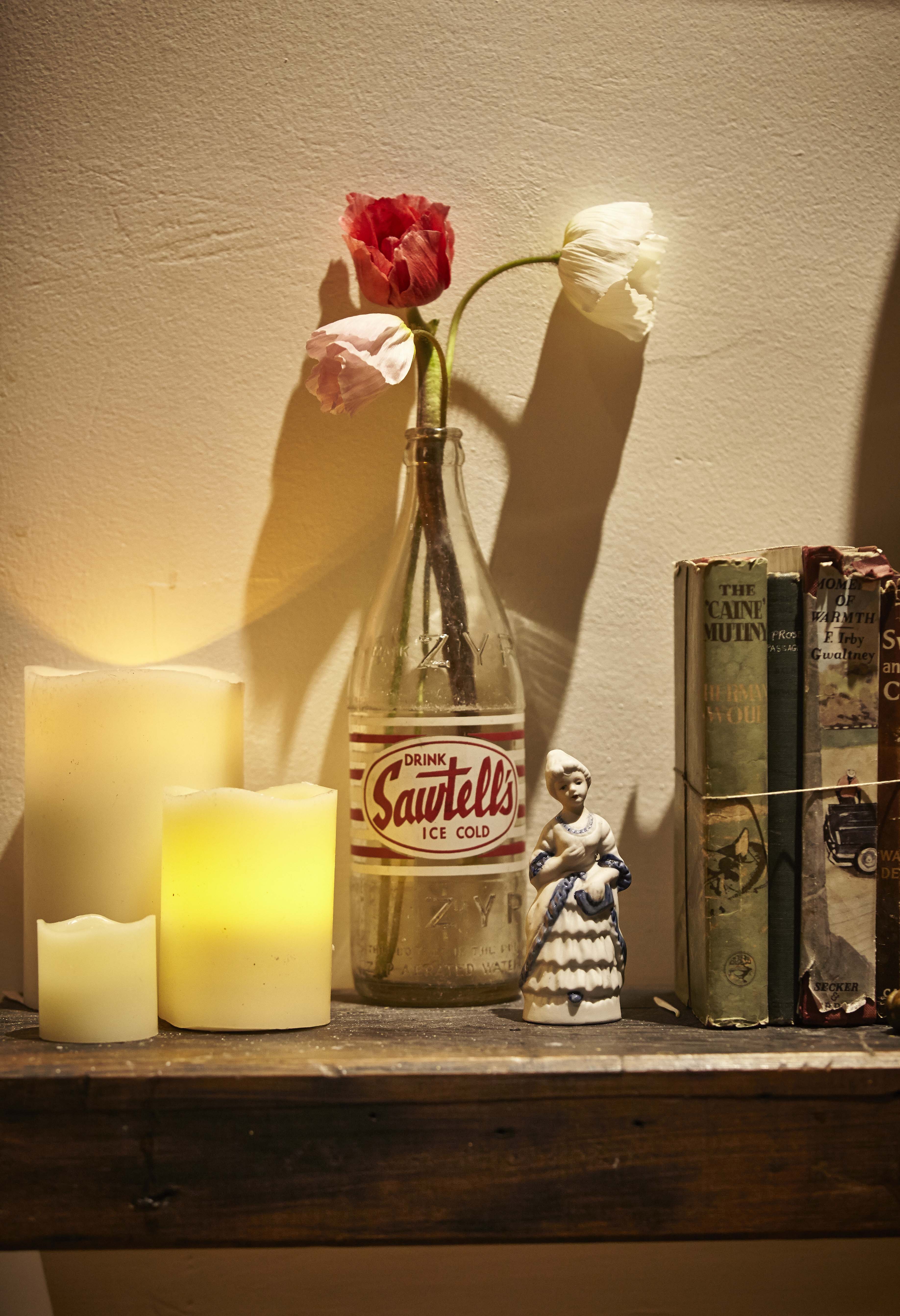 Then I started 'making' some things 'vintage' like stencilling onto old crates, adding 'aged' labels to wine bottles and filling frames with baby photos of the husband and his family.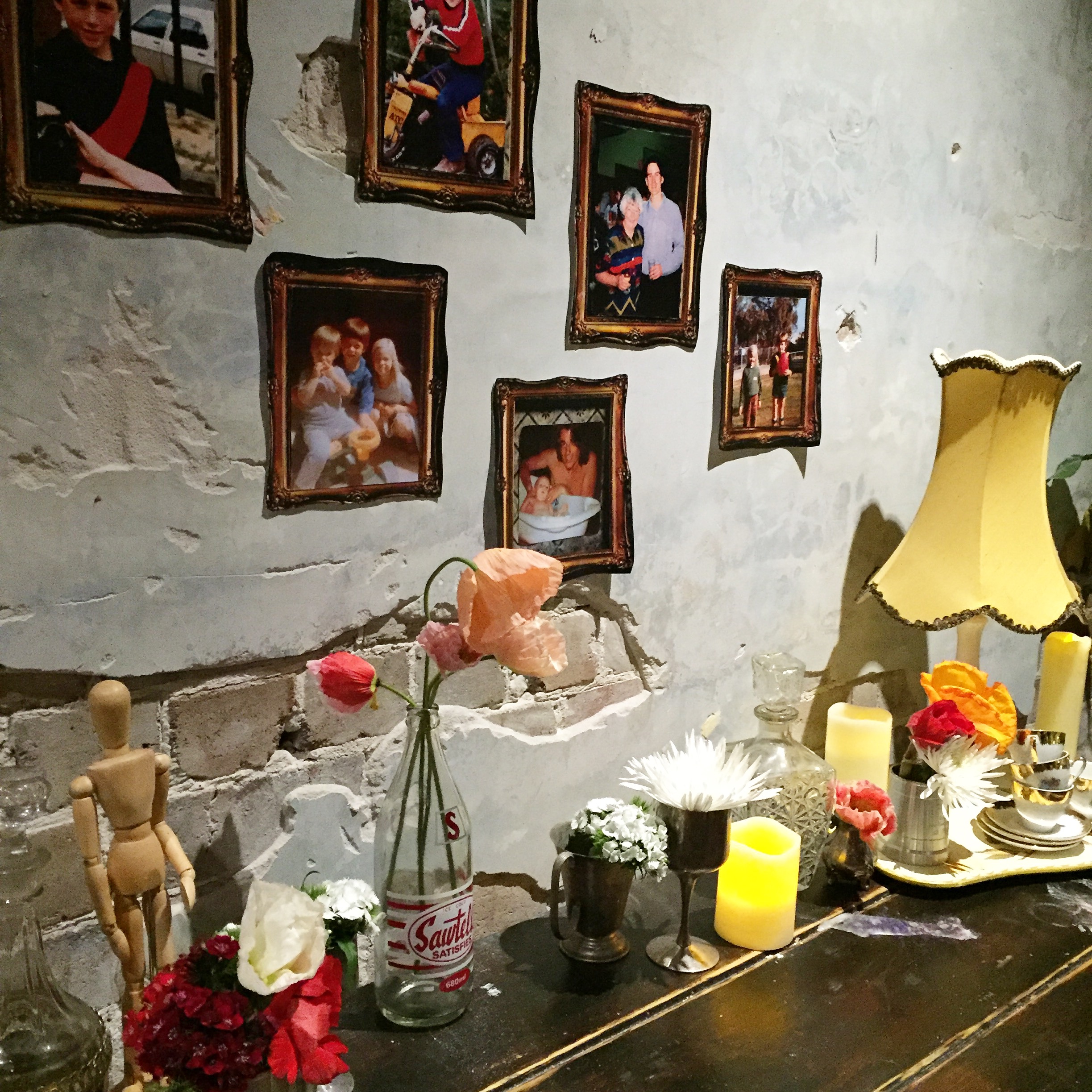 His parents still have their Super 8 video camera with the sweetest ever footage. So with some clever hacks I filmed the footage then re-projected it at the party so that it ran on a long loop.
When it came to the cake I needed something on theme and found tan awesome wine-bottle-in-a-box by Cakes By Lila. No one realised it was edible until I stuck a candle in it!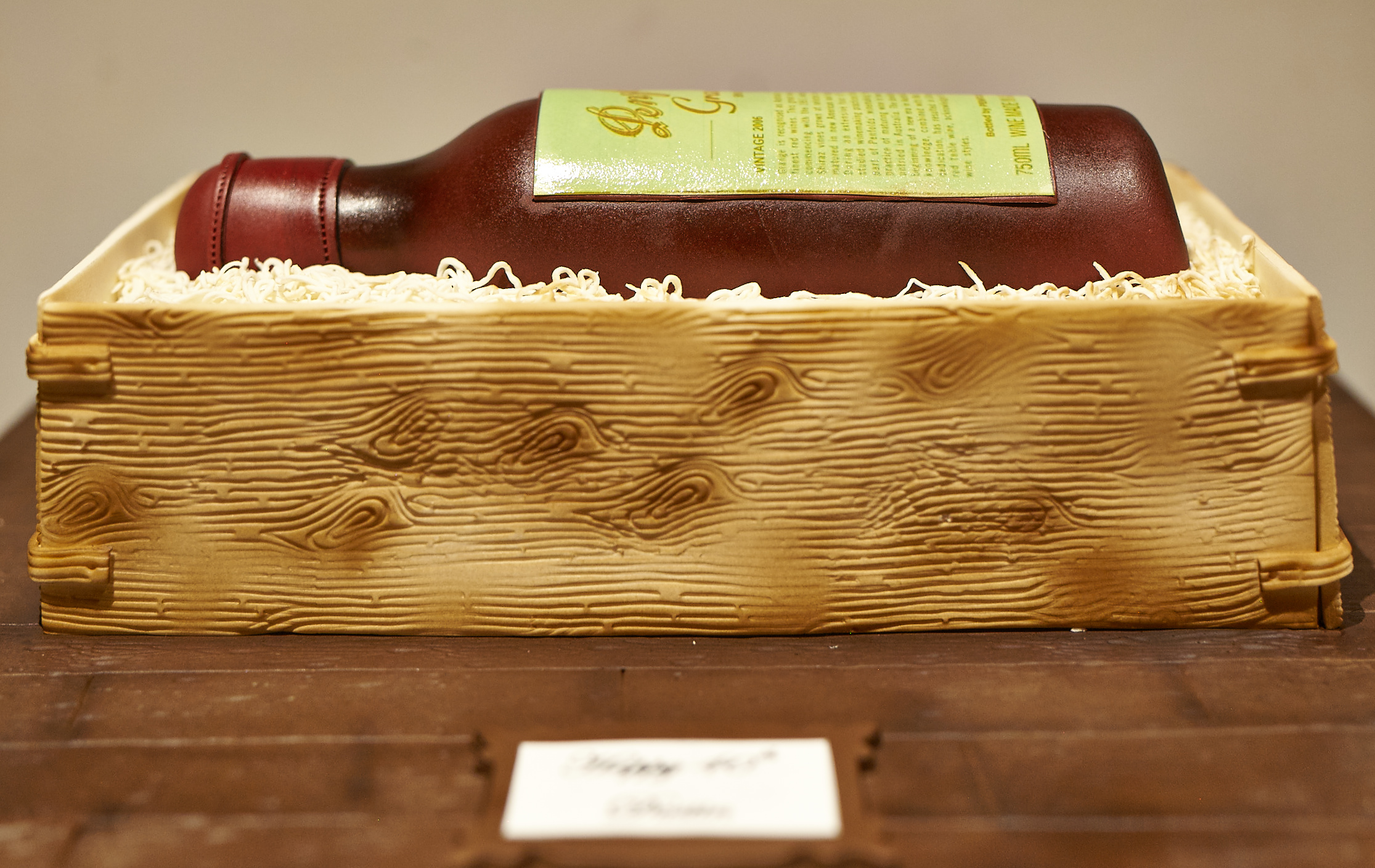 In the lead up to the party, I emailed all of Dustin's friends asking them for their favourite stories or memories or jokes about him and them so I could turn them into the Teasdale Times newspaper. I used a template online, and printed off copies for the guests.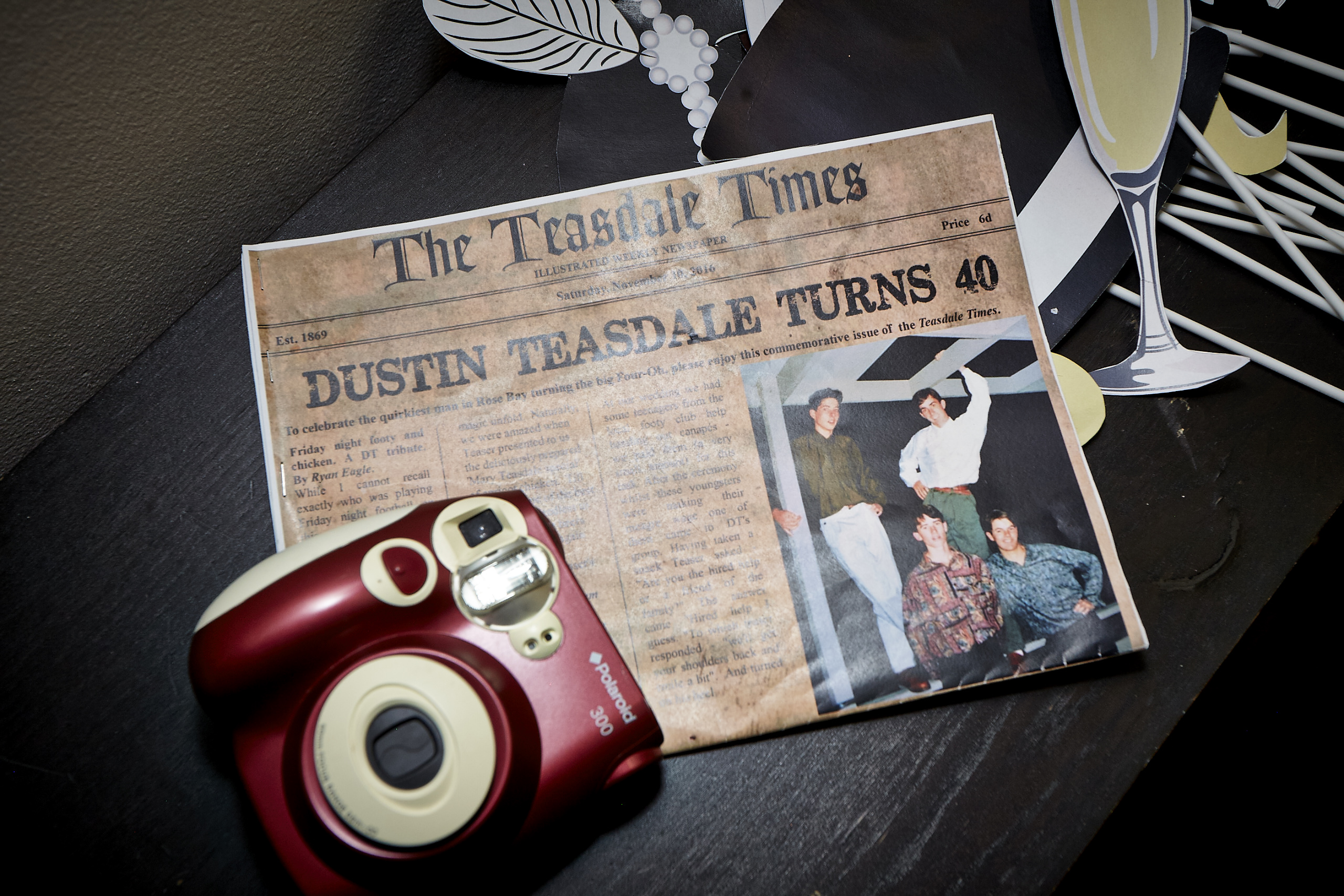 Mad Pizza Bondi's private room was the perfect venue. It's a great size for a 40-70 person stand up event and with the rustic, exposed brick walls it had a just-right feel for an eclectic vintage party.
When it came to favours, I knew I wanted to do two things.
One: goodie bags of Dusty's favourite slice that his grandma made for him when he was little. His mum whipped it up for the party and we included the original recipe.
Two: well I was hoping to tie in his grandpa also. I asked Dustin's dad if his dad had a favourite drink, thinking he would say something like whiskey or gin or, I don't know, rum (?!) so I could buy those teeny bottles. But no. It was Melbourne Bitter beer. Ha! So I figured I'd find some cute stubby holders and put the beer inside. But stubby holders aren't 'cute'. They're mostly really crazy looking.
After (extensive) researching (no one should really spend that much time on stubby holders)  I hit the Party Planning Jackpot. I found a customisable stubby holder... with a Melbourne Bitter template. WHAT! Yes. I. Did.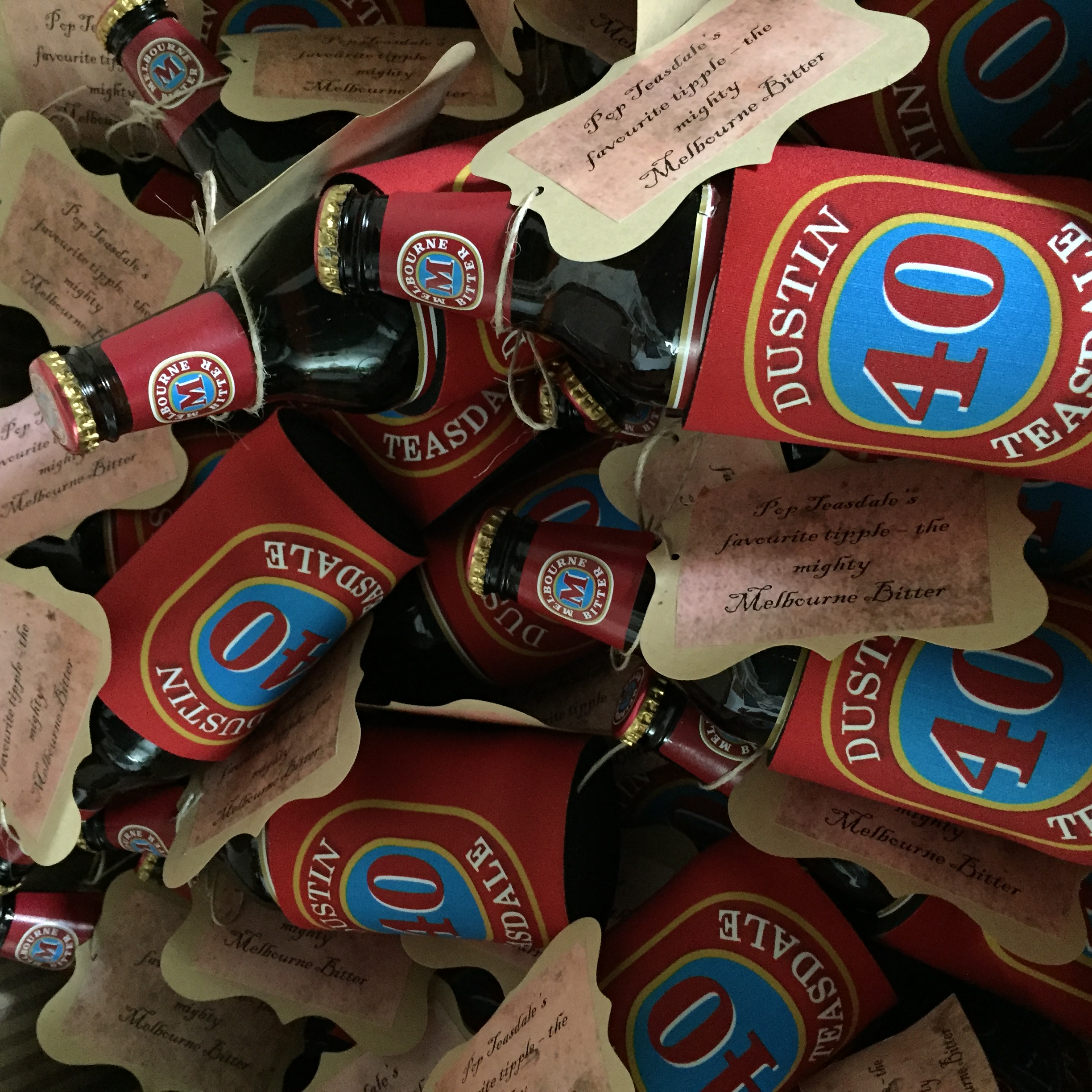 This is what I love about planning parties. Such sweet satisfaction.
With time running out, the legends at Stubby Cooler King replied to me (on a long weekend no less!) and promised they would whip them up and ship them out. I know it's crazy, but those dang  holders are my favourite styling element of the whole party. Who woulda thought?!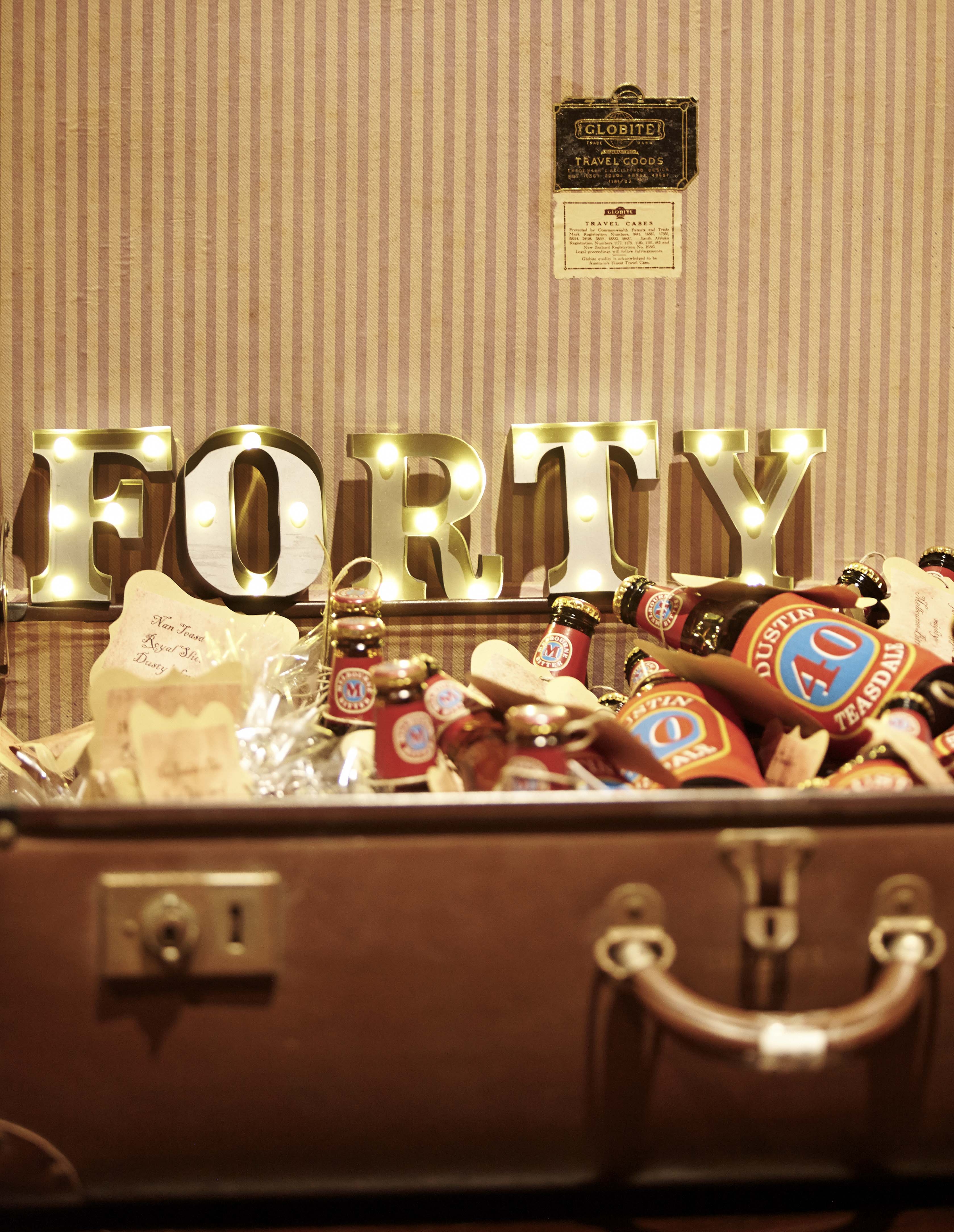 I find it hard to resist a little cartoon station so the delightful Dani Vittz helped me out again, sketching guests  – the costumes made them even more fun.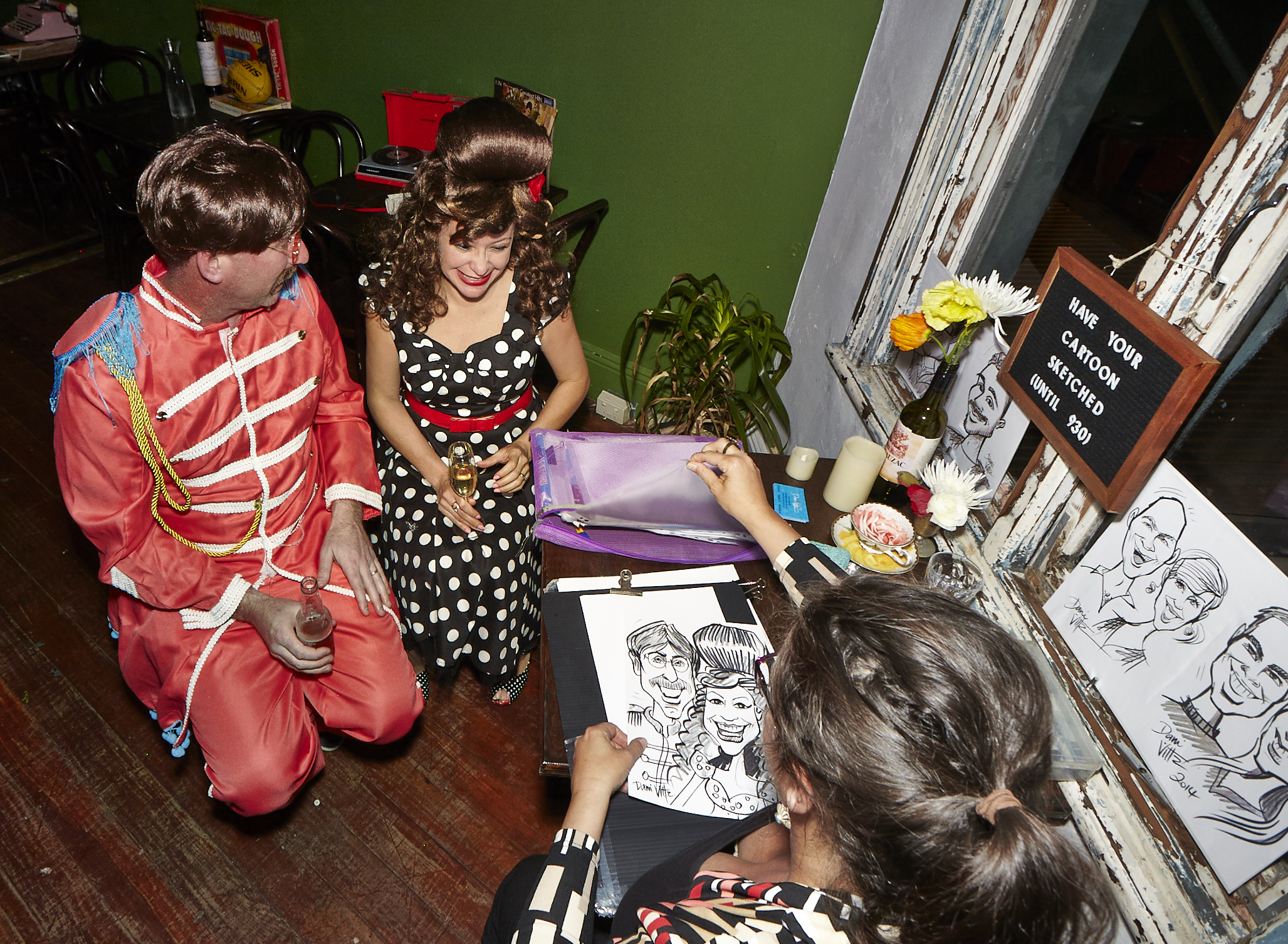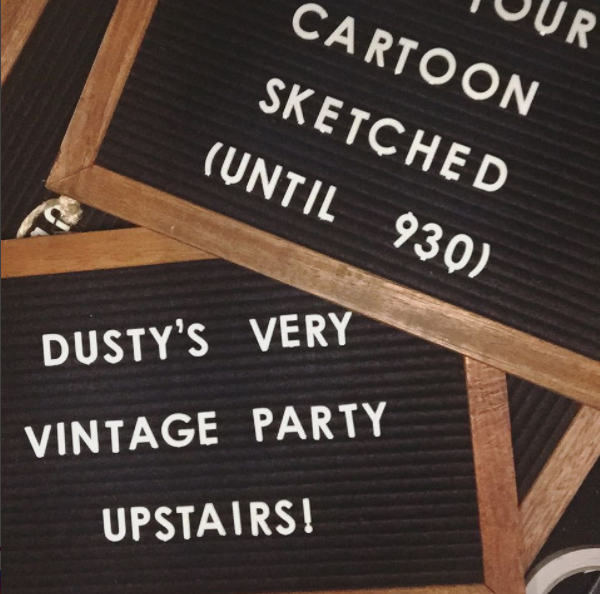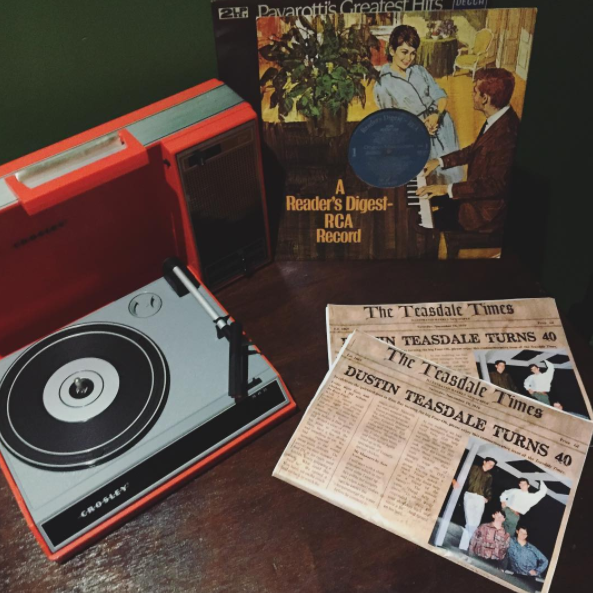 Then all that was left was to eat the beyond delicious pizza (and there was a LOT of it), cut the crazy cake, and dance the night away to Lionel Richie tunes.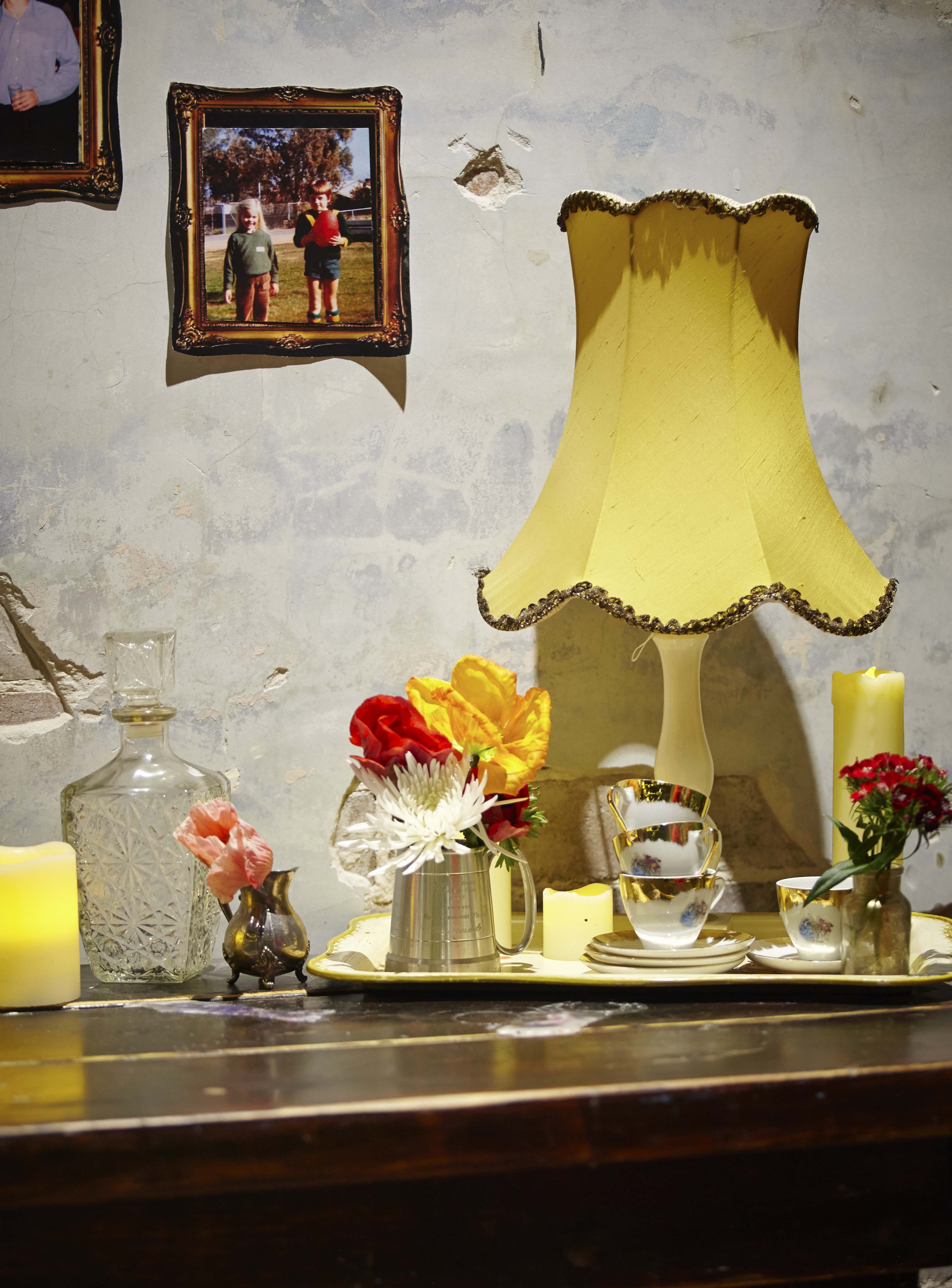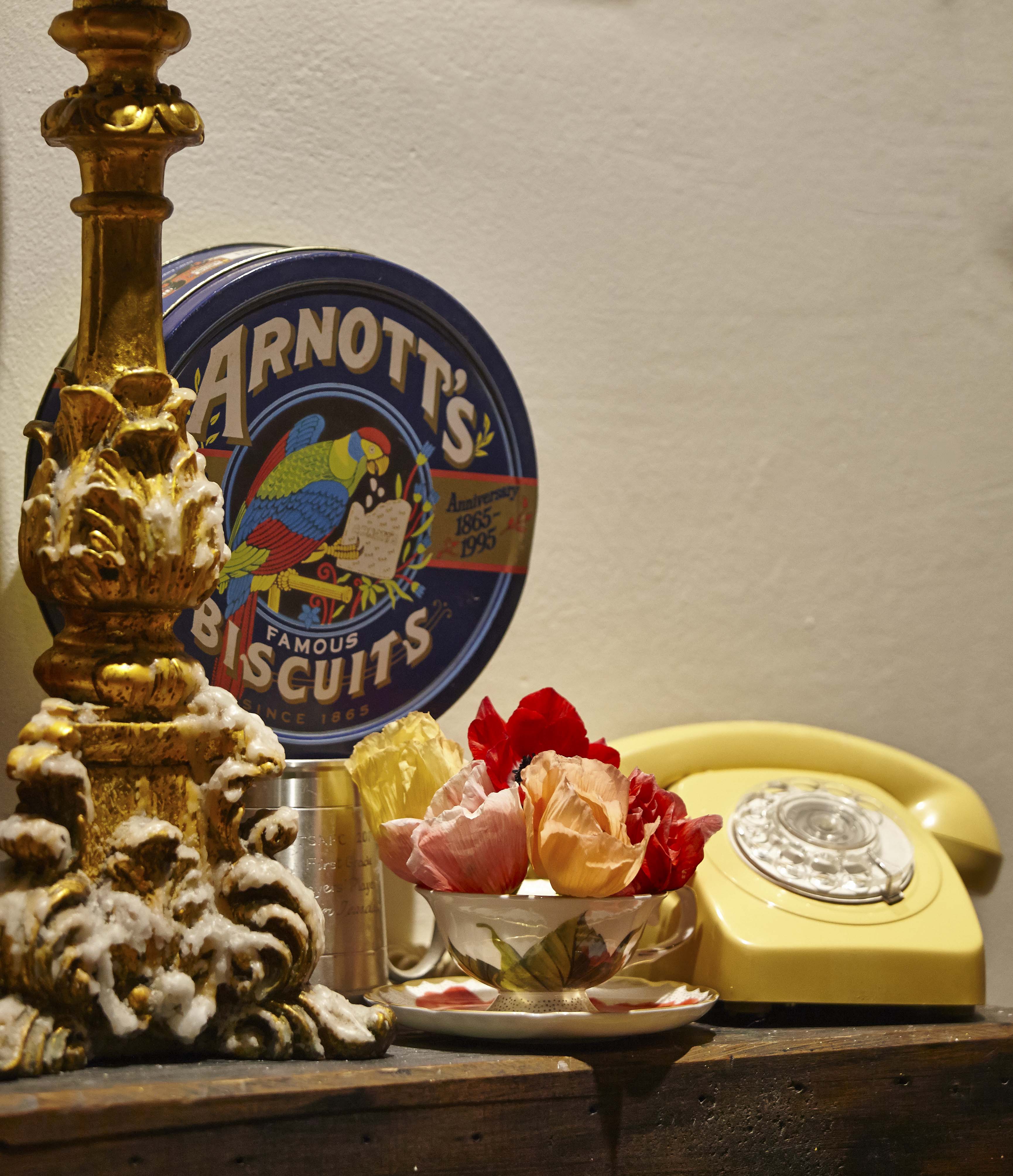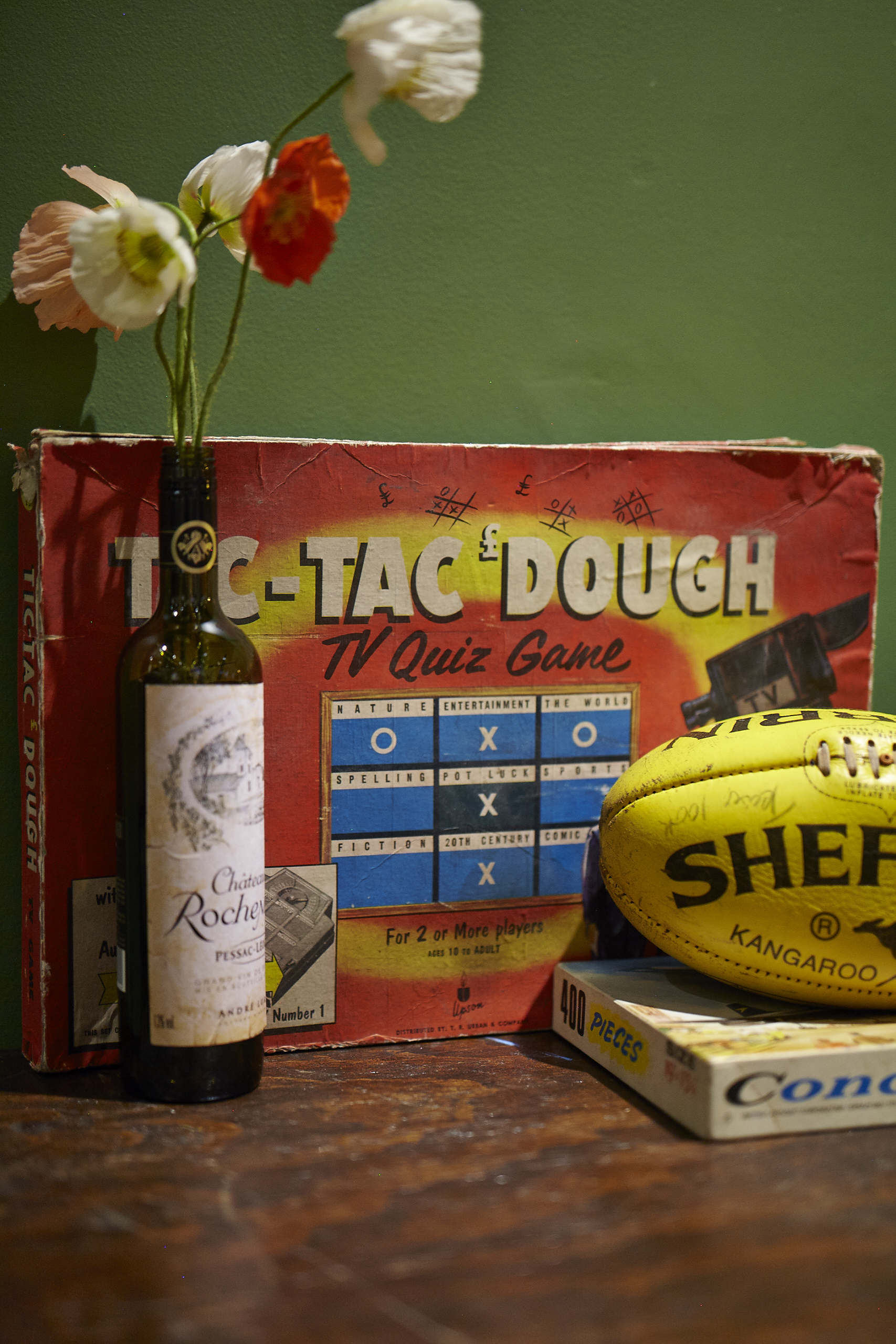 Oh, I went as a giant lamp! When you're 9 months pregnant, there's not many other options. I even had a light globe I could turn on and off (from Typo Store.) Did I mention I love a theme party?!